African-American Kids' Sky Art
"Black Like Me" by Frank Morrison
"Dream Big, Little Girl" by thedreamygiraffe on Etsy
"She Paints the Stars Brilliant" by PeriwinkleAndHazel on Etsy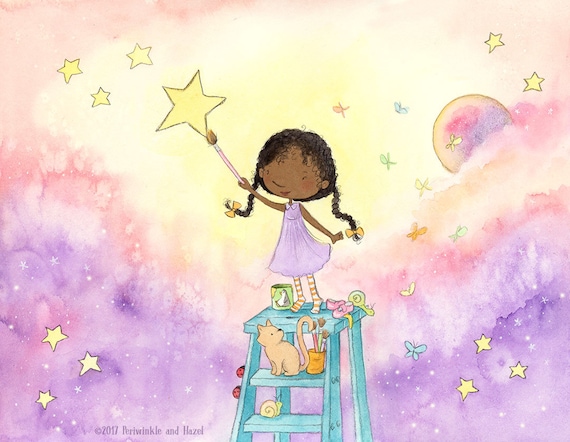 ---
Excerpts from this article: Black youths learn to fly, soar over obstacles, pain
"On her toughest days, Selena Berry would look to the sky and imagine herself soaring high in the clouds above her troubled Englewood neighborhood and hardscrabble middle school.
Thinking of being in the sky brought the 17-year-old some respite. That's when she first began fantasizing about piloting airplanes.
"Flying makes you feel big," said Berry. "You are on top of everything. Untouchable. You look down and all you see is the view, the beauty."
This summer, Berry is one of eight African-American students in the Chicago area enrolled in a new, rigorous program to learn how to fly and obtain a private pilot's licenses. The initiative, Tuskegee Next, is a special effort to increase the number of African-Americans who can work as pilots.
Growing up in Washington Heights on the far South Side, Marcellus Freeman, 18, became familiar with flying because his father worked at an airport as a ramp agent guiding planes to their gates and his family traveled frequently. He was 6 years old when a pilot let him take a peek into the cockpit.
"I knew I couldn't work in a cubicle," he said. "I wanted the sky to be my office."
---
My Photography